Thank you for visiting Diamond Homescapes, your leading fence contractors and deck contractors in the Huntertown, Indiana, area. We're delighted you're thinking about hiring us for your home renovation or project. We know how crucial it is to hire contractors you can trust with your home improvement efforts. These are some of the top reasons to choose our services over others, in case you're "on the fence" about it.
Are you looking for deck construction or fence construction near me? Are you looking for someone who can handle your landscape construction needs? If so, rely on the team from Diamond Homescapes. We have a tremendous amount of experience handling fence construction, deck construction, and numerous landscape construction needs. We can leverage our experience to help you. Learn more about our services, and feel free to reach out to us to learn more about how we can help you.
Fence and Deck Construction Ft. Wayne
If you are looking for fence construction or deck construction near me, then rely on Diamond Homescapes. We serve the Huntertown and Ft. Wayne, Indiana areas, and it would be our pleasure to help you. A few points about our fence and deck construction services include:

We use the best materials and our deck construction services, including Cedar, treated pine, and composite.
We also offer fence construction using a variety of materials. Examples include chain link, aluminum, vinyl, cedar, and treated pine.
We are able to customize your fence and deck construction services to meet your needs.
Our contractors have a tremendous amount of experience working on a myriad of properties, so we can use this to help you.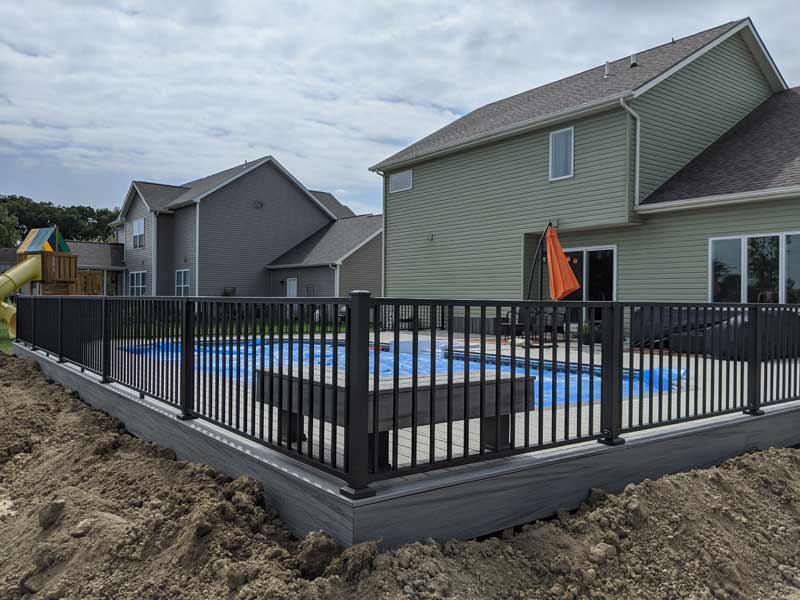 If you are looking for a reliable team to help you with your fence or deck, then count on us.
Free Estimates
We will give you a precise estimate for the services you desire. You can reach out at any time and tell us a little more about your fencing or deck project, and we'll respond quickly. Furthermore, you are never under any obligation to work with us. You can decide whether you want to proceed after we give you the estimate (at no cost to you) and explain how we reached it.
Longstanding Service
Our business continuously grows as we complete new custom projects for our clients. We would love you to join our ever-growing list of satisfied customers.
Positive Reviews and Testimonials
Please take the time to read through our lengthy list of positive reviews and testimonials. You'll find that many of our former clients were more than satisfied with our services and are willing to contact us for their future endeavors.
Screened and Approved Advisors
Everyone on our staff has been screened and approved to be a home project advisor. Thus, you can have the highest level of confidence that none of us will steer you the wrong way regarding your project.
Feel free to contact us to speak to a representative or complete a short form to start the process of receiving an estimate. Our telephone number is 260-580-7658.
You can also request a quote from us using the short form on our website. We'll get back to you quickly to discuss your plans for fencing your home or setting up a deck for your family and friends' joy and comfort. We're also open during convenient hours on all weekdays.
Five-Star Customer Service
We go far beyond people's expectations in the realm of customer service. Our agents are dedicated to your satisfaction at every moment, from the beginning to the very end of your project.
You'll see in the reviews that our agents are helpful, caring, understanding, and excited about helping you manifest the vision you have for your home.
Various Payment Options
We offer several payment options to make the process more convenient for you. At this time, we accept cash, MasterCard, Visa, and Discover cards.
You can pay for your projects using any one of these methods. And don't forget to ask about any additional payment methods we may have available.
Hardscape Work
In addition, we also do a lot of hardscape work. Even though we do not do any concrete work, we can help you with numerous other jobs. For example, we can help you with retaining walls, paver patios, and more. If you have questions about the type of work we can do on your property, feel free to reach out to us and ask. We have handled unique jobs over the years, and we are confident we can assist you as well.
Other Landscape Construction Services Offered
As a landscape contractor team, there are numerous other services we offer as well. If you need help designing your landscape, we can work with you to figure out the best layout to meet your needs. Even though we do not offer maintenance landscaping services, we can help you get your landscape to match your dreams.
If you spend a lot of time outside, then you may be thinking about building an outdoor kitchen. We can help you with that as well. There are a lot of considerations you need to think about when you are putting in an outdoor kitchen. We can help you avoid common pitfalls and maximize your experience.
In addition, we can help you install a pergola. This is a great way to keep yourself comfortable while also preventing people from getting sunburned. Pergolas come in many shapes and forms, and we can help you find the right one to match your needs.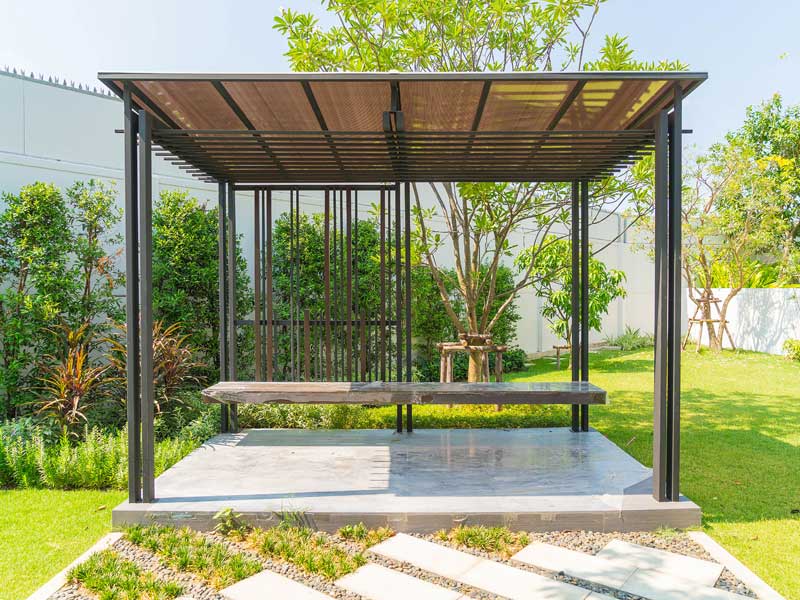 Multiple Services
Fence and deck work are not the only services we offer. We have a vast number of services we provide for homeowners seeking to improve their homes or do projects that will increase their value. Contact us to find out more about the extensive menus of services we offer. You might be surprised about how lengthy our menu is.
Why Trust Diamond Homescapes for Fence and Deck Construction Near Me?
At Diamond Homescapes, we understand that you have options if you are looking for someone to help you with your fence or deck. A few reasons why you should partner with us include:
Best Materials
We have access to some of the best materials in the industry, and we can use them to help you.
Competitive Prices
We always offer competitive pricing. We are open and honest about the price of our services, so you are never surprised by a bill.
Satisfaction Guaranteed
We offer a satisfaction guarantee, and we will work until you are satisfied with the final result.
If you are looking for an experienced team to help you with your outdoor needs, trust Diamond Homescapes.
Contact Diamond Homescapes for a Landscape Contractor
If you are looking for help with your hardscape in Huntertown or Ft. Wayne, we are here for you. At Diamond Homescapes, we have highly trained experts who can help you customize your outdoor hardscape or landscape to meet your needs. We have numerous designs that can serve as a source of inspiration, and we can help you get your property looking as good as possible. If you would like to learn more about our products and services, please contact us today to speak to a member of our team.
Reviews from Our Clients


Toby did an excellent job installing our privacy fence. Work was done at the time we requested, and the job site well cleaned afterwards. Toby was quick to reply to phone calls and text messages- - very good to work with. Highly recommend. Thanks for a great job.
~ Janet Lindsten

This new western red cedar fence really outshines the old fence it replaced. Diamond Homescapes invested the time and care to adjust each section to make an outstanding view and wonderful addition to our property. Thanks so much!
~ David Bowles