Pergolas in Huntertown, IN
Contact Diamond Homescapes Today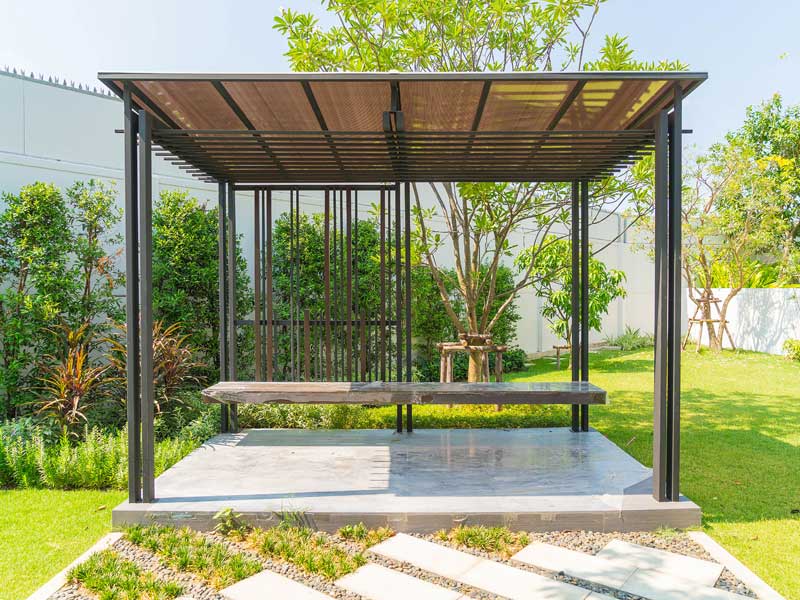 Diamond Homescapes offers a dedicated pergola service right here in Huntertown. Whether the project is small and quaint or large and ambitious, we'll be happy to take it on and build your dream pergola.
Our pergola contractor services are available across the Fort Wayne area. We can build pergolas that are great for growing vines. We can make statement pieces that define an outdoor space. We can provide you with a covered location with filtered shade that still allows you to receive direct natural light.
No matter what it is you want from your pergola, we can help you achieve it with our specialized service.
We offer a variety of building materials. These include:
Getting started With a Pergola Company
When you want a pergola, the first step is designing. We will work with you to learn what you want out of your pergola. We will look at the location you have selected to add professional insight as to how some options may look and function.
This process allows us to set expectations so that you will know how much is involved in your project. We can go over cost and time estimates. We will also explain any disruption involved in the service so that you can plan around it and minimize its impact on your daily life.
Ultimately, we will let you guide us so that we can plan for a pergola that is going to meet your expectations and leave you happy with the results.
Pergola Installation
When the planning stage is complete, we will begin construction. Pergola construction varies by project. Some are simple and can be finished in a couple of days. Some are large and complicated and require more time. Before construction begins, we'll make sure you have a clear idea of the timeline involved.
Construction is disruptive to the space where we are working. We will need to bring in trucks and workers. For some tasks, we might also need heavy equipment. Power tools and noise are part of the drill. We'll work with you to figure out a construction schedule that minimizes all of this disruption, but it helps to plan for noise and commotion.
Building a Pergola That Makes a Statement
When construction is finished, you will be left with your gorgeous pergola. Since it was designed and constructed specifically for your space and intentions, you know that it will be a custom piece that separates your lawn or outdoor area from anything else in Huntertown or the Ft. Wayne area.
When you have a pergola in mind, Diamond Homescapes can make it a reality. Contact us today. We'll discuss your ideas and schedule a visit to get you a quote. You don't have to wish for something that could be on your lawn in a surprisingly short time.